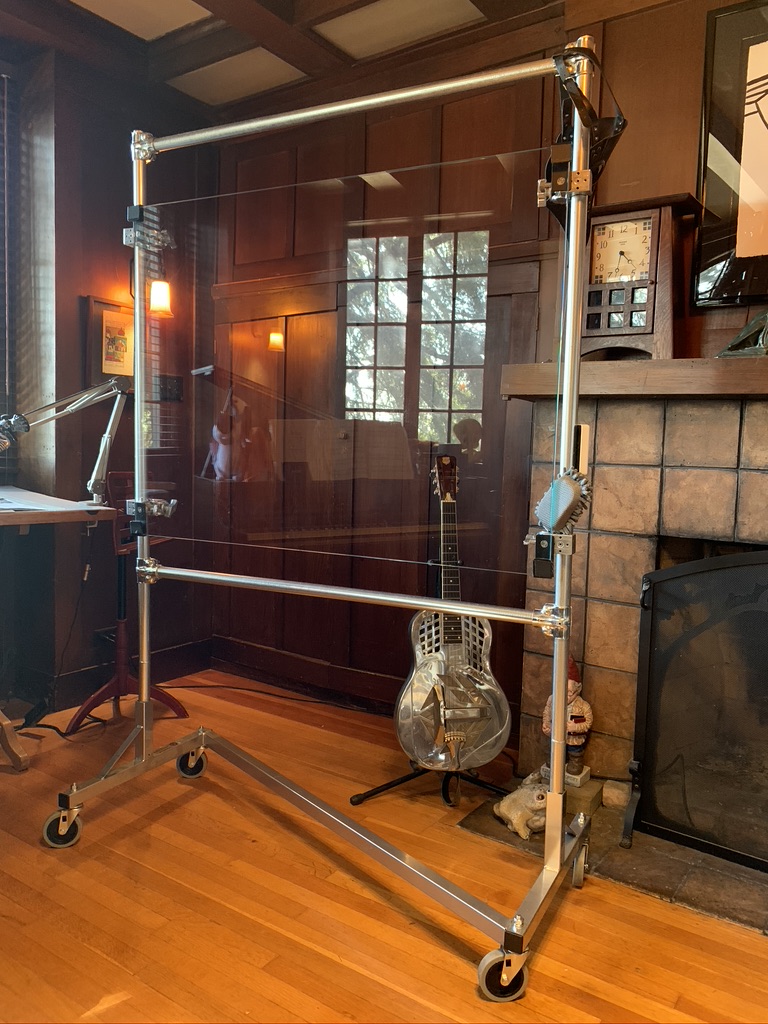 Every time I teach a remote class from my home office, somebody says "oooh, where'd you get that clear whiteboard." White boards are just ugly, and I wanted something that would essentially disappear into the room, so glass seemed like the best choice. Though I see these in many detective shows on PBS :-), I couldn't find one to buy, so I built one. Here's the recipe: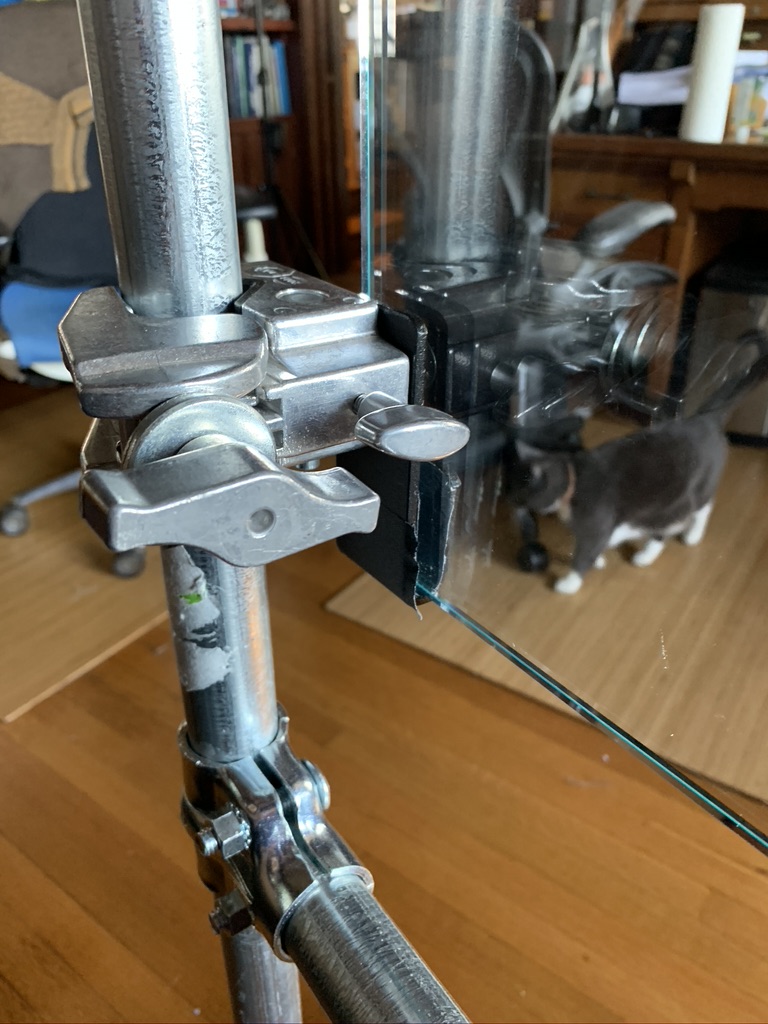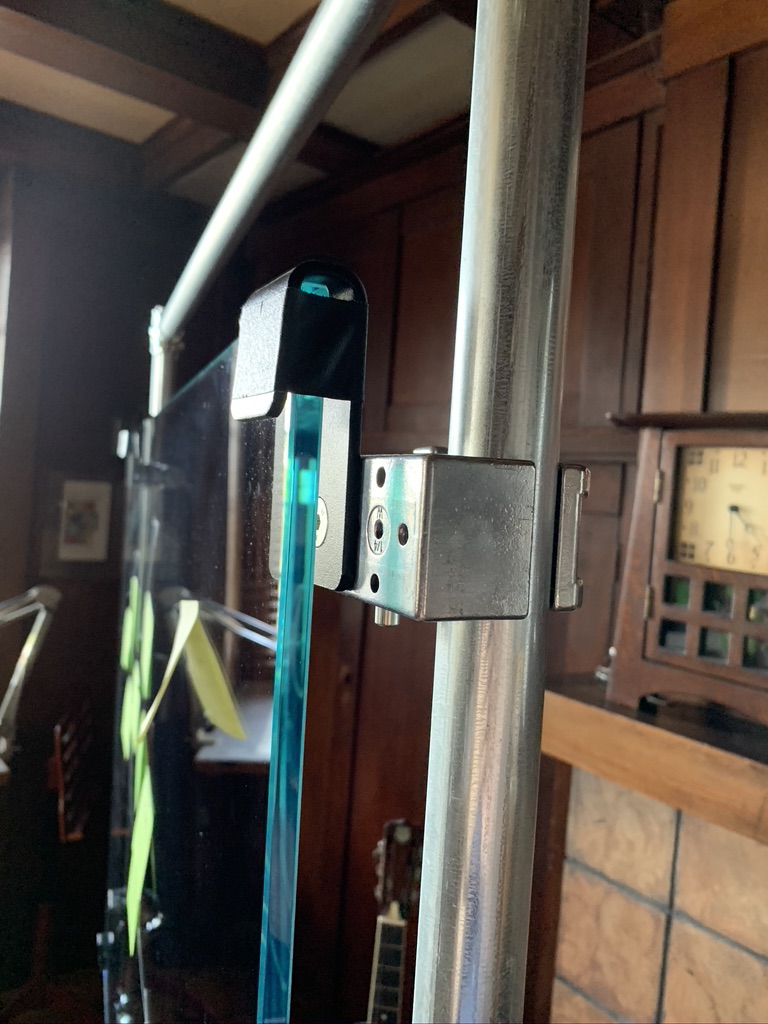 First the frame. I'm using a Z-Rack garment rack that I got from Zracks.com. They have several variants, some even designed to be whiteboard holders, but unfortunately, those are five feet wide, which is a bit too big for me. I wanted a 4×3 board. If you have the space, you can buy the whiteboard frame both with and without the board. The main downside other than the too-large size is that the hangrails are designed for a lightweight foam-core board, with only a 5/16″ slot, and just eyeballing the pictures, the frame looks a little flimsier than the one I have. I decided that that I wanted thicker glass than that (for no rational reason—most picture windows are 1/4″ or thinner), and a sturdier frame.
So, I ended up buying a 4-foot-wide Heavy Duty Garment Z-rack with a double rail. (They evidently don't sell direct through their web site, but here's an Amazon listing. I actually called them using this antique device called a telephone, and they were happy to take a direct order over the phone.) The two rails don't actually touch the glass, but they turn out to be handy for dragging the thing around.
The only downside to this rack is that the 4″ casters aren't locking. You could replace them, of course, but I didn't bother. The board does move around a bit when I erase it, so if that turns out to bother me too much, I'll lock the wheels with a couple of wedges.
The next piece of the puzzle are the brackets I used to hold the glass. I'm using four Manfrotto Super Clamps (I got mine on eBay for a considerable discount). You won't need the studs.
The glass is hanging on four hangers that are designed precisely for this purpose (Manfrotto Narrow U-Hook Glass Holders, part number #040 (2303)). Unfortunately, Manfrotto don't seem to make them any more (I got mine on eBay). I'm guessing that you could use U hooks. You'll need two sets: one for the bottom and one for the top. Impact also makes a Super Clamp and U-hook that are considerably cheaper than the Manfrotos. In both cases, the U-Hooks are designed to hold round horizontal bars, so they're way too big for the glass. You'll probably want to squash them a bit in a vice to narrow them down to an opening closer to the glass thickness. The Impact hooks are aluminum, so will squash easier.
Now for the glass itself, I'm using a 4'x3′ piece of tempered 3/8″ thick "ultra clear" glass, bought online from Dulles Glass & Mirror. The glass was, by far, the most expensive part of the project, and the tempering, clarity, and polished edges all add to that cost. Tempering is there for safety. If the pane should break (unlikely—3/8″ is thick), it will break into little chunks instead of 3-foot-long razor sharp shards. The extra clarity (they call it HDglass) and polished edges just look good :-). I didn't opt for rounded corners because it wouldn't work in this application (the glass is exactly the right size for the hangers. This particular piece of glass weighs in at about 65 pounds, so you may want some help wrestling it around. You also can probably get away with (cheaper, lighter) 1/4″ glass, but I was being paranoid about strength and rigidity. (As I said earlier, big picture windows are only 1/4″, so that's probably fine). The extra-thick glass looks great, though. I'll add that Dulles wasn't the cheapest online option, but they were the only ones that offered the ultra-clear (HDGlass) material, and they were cheaper than my local glass store.
Now, just screw it all together like a giant erector set. No surprises at all. I did line the glass holders with a couple layers of gaffer tape (You could use duct tape, but the gaffer tape isn't as gooey) to protect the glass. I also used a couple lengths of tape to close off the ends of the hangers so that the glass wouldn't slide out sideways.
The final issue is markers. Normal whiteboard markers will work, but the ink is pretty transparent, so it's hard to see. I use "chalk markers" like these Chalkola Dry-Erase Markers. (The wet-erase ones smudge too much, and are harder to erase.) Don't bother with black ones. The most visible color is actually white. If you do opt for wet-erase markers, erase them with a damp rag—standard whiteboard erasers don't work for the wet-erase variety. I have a spray bottle of water and a microfiber rag next to the board in case I need it.